Phlox Map Widget will add a map to your desired widget area or anywhere on your posts and page, by customizing the widget in the Page Builder. It helps you to display your location on your website visitors. Various options control this widget. You can change its height, type, style, etc.
Follow below steps to add Phlox Map to a widget area or in a page content:
1- In Widget Areas
Go to your WordPress admin panel
Click Appearance on the Dashboard
Then click Widgets
Find [Phlox] Map among the available widgets and add it to your desired Widget Area
2- In Page Builder
Go to your WordPress Admin Panel
Click Pages on the Dashboard
Click Add New
Navigate to the top right hand of the WordPress editor and find Page Builder, beside text tab
Click Add Widget
Click Phlox and choose [Phlox] Map
Click Edit on the right side of the widget on Page Builder
---
Map Options
Title
Your map can have a title. In this section, you can add a title for your map or leave it empty if you do not want a title.
Height
You can change the map height in pixels and choose a latitude/longitude over the map.
Latitude and Longitude
To find a place's latitude/longitude, right click the place or area on google maps and select What's here. Then you will find a coordinates box at the bottom of the page.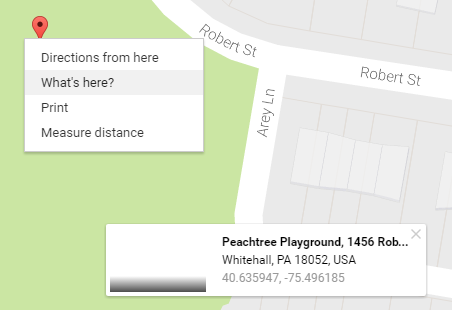 Map Type
Map type can be roadmap or satellite.
Map Style
With filling out the map style, you can customize the standard Google base maps' presentation.
Marker Info
You are able to have a marker popup text on your map.
Navigation Control
Navigation control appears on the map if you switch it on.
Zoom
Also, you are provided to zoom in/out by using the mouse wheel scroll.
Extra Class Name
This field lets you customize the widget. Write a style on your CSS file, then add the defined class name here.