Phlox Image Widget gives you the possibility to upload an image or a number of images in any widget area you want.
There is no limit to the number of image widgets you add and you can also upload a second image to each image widget that shows up after the user hover over the image.
Follow below steps to add Phlox Image to a widget area or in a page content:
1- In Widget Areas
Go to your WordPress admin panel
Click Appearance on the Dashboard
Then click Widgets
Find [Phlox] Image among the available widgets and add it to your desired Widget Area
2- In Page Builder
Go to your WordPress Admin Panel
Click Pages on the Dashboard
Click Add New
Navigate to the top right hand of the WordPress editor and find Page Builder, beside text tab
Click Add Widget
Click Phlox and choose [Phlox] Image
Click Edit on the right side of the widget on Page Builder
---
Image Options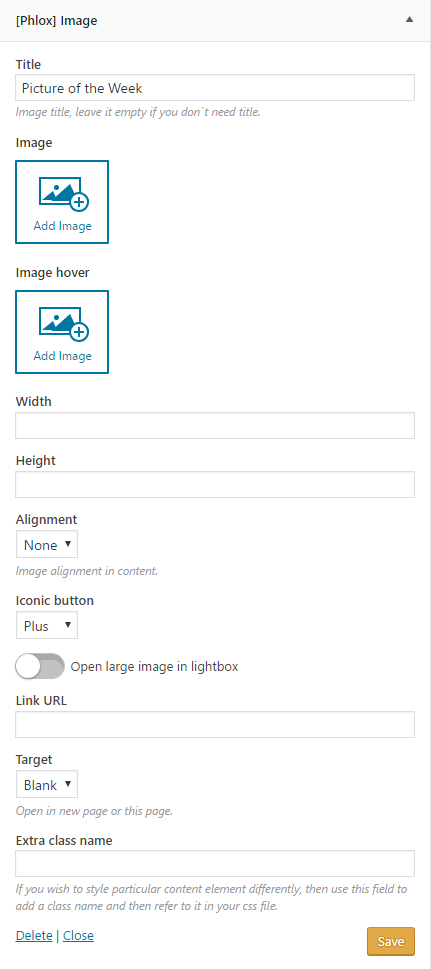 Title
In this section, you can give your image a title.
Image
Easily click Add Image to add an image to your desired widget area.
Image Hover
Whenever you hover over the first image you have added, this second image will show up.
Width and Height
Here you can specify the images' width and height.
Alignment
You can align the images according to the widget area.
Open Large Image in Lightbox
By switching on this option, the image (not the hover) will enlarge in a lightbox. If you want to add a plus icon on the image whenever you hover over it, change it to plus.
Note: After enabling this option, next options will be disabled.
Link URL
If you want the image to link to another page, add the page's URL in this field. After clicking the image, the page that you have linked opens.
Target
You can choose the image opens in the new page or in the current page.
Extra Class Name
In order to customize particular content element, write the style on your CSS file with a class name, then add the class name in this field.